MICHELIN
X® MULTI D Pre-Mold Retread
Regional drive retread / recap designed for all season traction without compromising high mileage to provide optimal total cost of ownership and driver satisfaction
WHAT IS RETREAD / RECAP?
The X® Multi D Pre-Mold Retread utilizes Michelin Retread Technologies' 9-step manufacturing process to ensure the retreat, sometimes referred to as a recap, recapped tire or remold, meets new-tire manufacturing standards. By having your fleet's tires retreaded or recapped, you can protect your bottom line and the planet by helping reduce the millions of tires that are discarded in landfills each year. Click here to find a Michelin Retread tire dealer near you.
WHY THIS RETREAD / RECAP?
Open shoulder design with regenerating tread technologies for optimum grip throughout life.
28/32nds of tread with compounding designed to deliver scrub resistance and high mileage.
Co-extruded compounding, designed to reduce heat build up protecting the casing and improving fuel efficiency.
Teardrop grooves at the base of the sipes designed to provide reduced stress under high torque conditions.
Block bridges designed to provide additional support to reduce irregular wear and improve durability for the open shoulder.
1. Full-Depth Matrix Siping
The sipe goes all the way to a teardrop groove, helping to reduce loss of the biting grip as the tire wears
2. Tread Regeneration
Siping opens to a tread groove once worn to help with additional water evacuation and traction
3. Compounding
28/32nds of tread designed for scrub resistance and high mileage
4. Block Bridges
Help to reduce irregular wear associated with an open shoulder design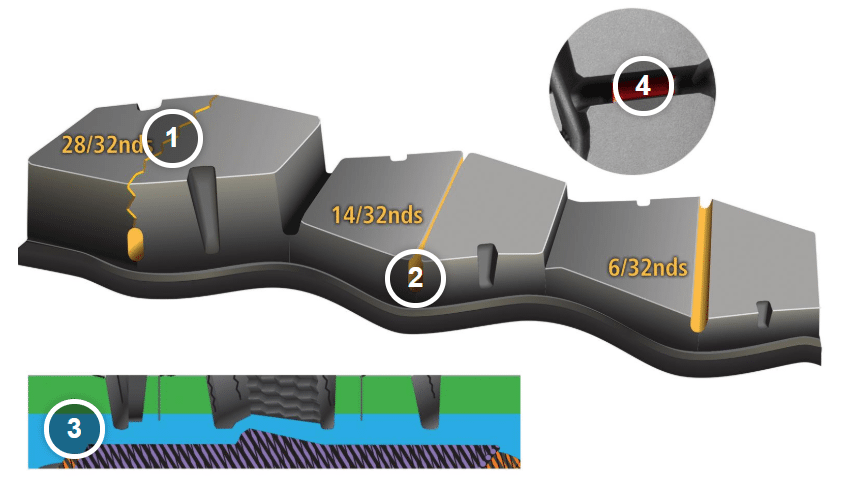 Michelin X® Multi D Pre-Mold Retread / Recap
REFERENCE MATERIALS - DOCUMENTS
Michelin X® MULTI D Pre-Mold Retread / Recap Product Sheet
X® Multi D New Tire & Retread / Recap Confidence Guarantee
Michelin Retread Technologies, Inc. National Limited Warranty and Enhanced Michelin X One® Casing Warranty
Michelin Truck Tire Data Book
Michelin Retread Technologies Quick Reference Tread Guide
Technical specification
| | |
| --- | --- |
| Casing Size | 10R22.5 |
| Tread Width | 230 mm |
| Tread Depth | 28/32 nds |
| MSPN | 46672 |
Pre Mold Process
Also known as a "pre-cure" process. Tread rubber used in this process is molded and pre-cured by the tread rubber manufacturer, Michelin Retread Technologies (MRT). The appropriate tread is selected – design, width, thickness – and applied to a prepared casing. The casing is prepared by placing a cushion gum bonding layer between the tread and casing. The tire then moves to the chamber for curing.