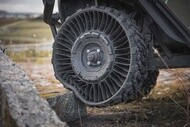 Michelin X® TWEEL™on Kubota vehicle
MICHELIN TWEEL: THE AIRLESS TIRE TECHNOLOGY

For years, traditional pneumatic tires have been the only option for drivers seeking reliable and efficient mobility. However, with the introduction of the airless tire, this has changed. The MICHELIN X® TWEEL™ tires represent a significant technological advancement in the tire industry. Flatless tires offer several advantages over traditional tires and are compatible with a wide range of machines such as Commercial Mowers, Skid Steer Loaders (SSL) and other light construction equipment, Truck Mounted Forklifts (TMF), ATVs and UTVs, Golf and Utility Carts, and various military applications.
WHAT ARE AIRLESS TIRES?
Unlike traditional tires, which are made of rubber and filled with compressed air, airless tires use a special tread beam connected to a series of flexible spokes to support the weight of the vehicle from above. This advancement made it possible to create a puncture-proof tire that rides and drives like a pneumatic tire rather than a solid tire. The airless tire Michelin is named: "MICHELIN X® TWEEL™".


WHAT DOES "TWEEL" MEANS?
The term "TWEEL" is the specific name given to the Michelin airless tire range. It is a portmanteau word which is composed of the English words "TIRE" and "WHEEL". This concept was born in the Michelin research center in Greenville, South Carolina.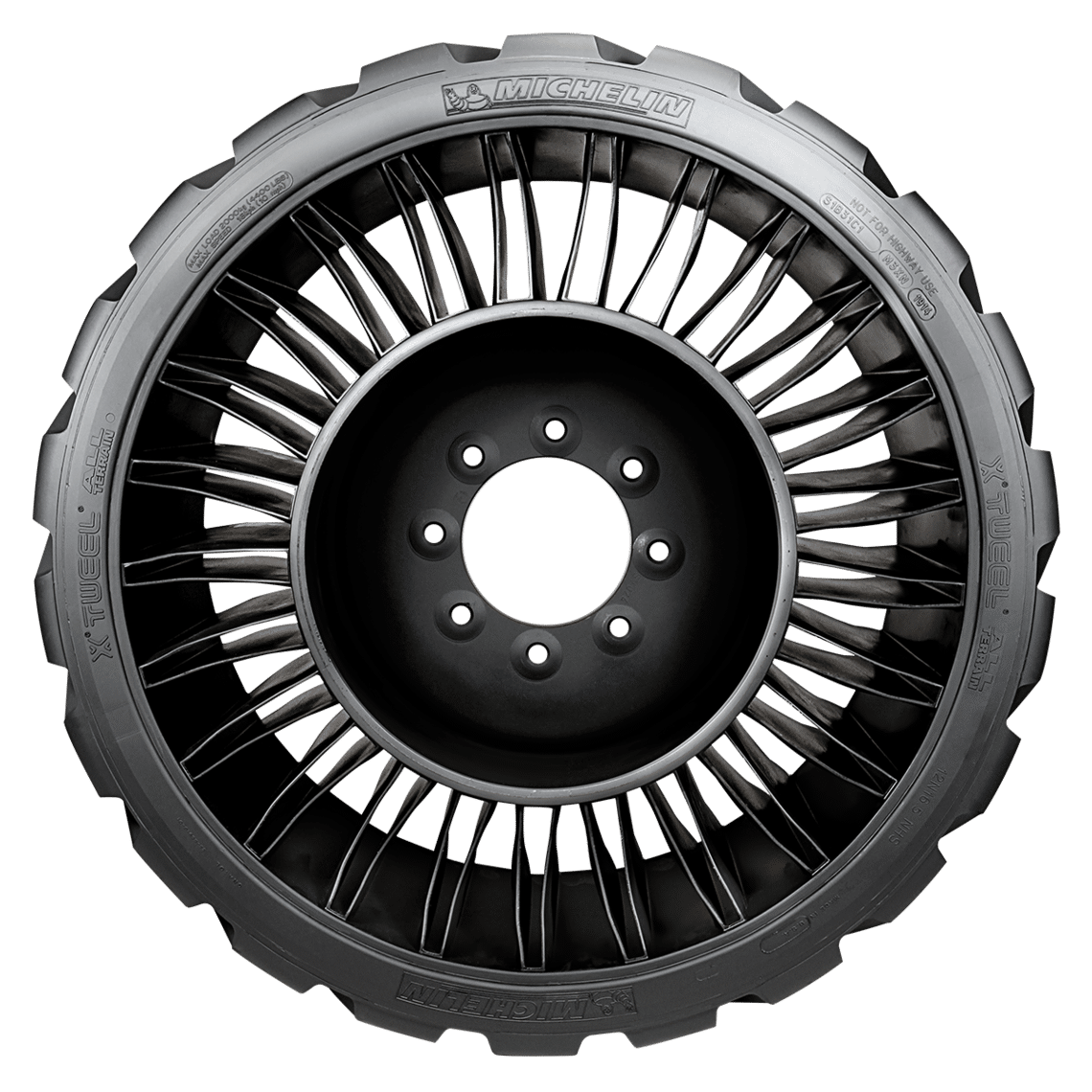 MICHELIN X® TWEEL™ representation
HOW DO MICHELIN TWEEL TIRES WORK AND WHAT ARE THEY MADE OF?
Michelin Tweel Family of Products
MICHELIN X® TWEEL™ is a complete, single piece, wheel and airless radial tire fitted assembly.
The key components of this innovative solution are:
Shear Beam with a tread optimized for long wear life
in challenging conditions.
High impact resistance and flexible poly-resin spokes which carry weight in tension and absorb impacts, helping make the ride smoother, and provide an energy transfer that reduces tire bounce.
A reinforced steel hub to attach the MICHELIN X® TWEEL™ tire to the machine.
This technology provides a cushioning effect that absorbs shocks and vibrations. The shear beam and spokes are designed to be flexible and deformable, which allows them to conform to the contours of the ground and provide excellent traction, grip and stability.
There is no need for special equipment to mount the assembly. Moreover, once fitted, there is no air pressure to maintain.
WHAT ARE THE BENEFITS OF MICHELIN AIRLESS TIRES?
Airless tires, also known as non-pneumatic tires (NPT), have several benefits over traditional pneumatic and solid tires. Here are some of the main advantages: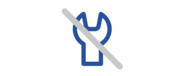 NO MAINTENANCE
The MICHELIN X® TWEEL™ airless radial tire is one single unit, replacing the current tire and wheel assembly. There is no need for complex mounting equipment and once they are bolted on, there is no air pressure to maintain.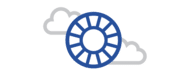 Maniability and stability
COMFORT AND STABILITY
The unique energy transfer within the poly-resin spokes helps reduce the "bounce" associated with pneumatic tires and the harshness of
solids, while providing outstanding comfort and handling characteristics.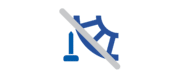 NO FLAT, NO DOWNTIME
The MICHELIN X® TWEEL™ airless radial tire is designed to perform like a pneumatic tire, but without the inconvenience and downtime associated with flat tires.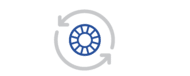 LONG LASTING TIRE
Airless tires will allow you to reduce premature tire failures due to, for example, an irreparable puncture. Moreover, they are designed to last 2-3X longer than a pneumatic tire.
WHICH MACHINES ARE COMPATIBLE WITH THE MICHELIN TWEEL?
Our Michelin X® TWEEL™ can be fitted to your machines in the following five main segments. Moreover, the airless tires are particularly efficient and recommended for use on rough terrain where you need to maintain grip to keep control, and not
worry about getting a tire puncture.
MICHELIN X® TWEEL™ TURF
Airless Radial Tires for Commercial Mowers and other turf care machines
MICHELIN X® TWEEL™ UTV
Airless Radial Tires for Side by Sides, Quads, and Military Equipment
MICHELIN X® TWEEL™ SSL
Airless Radial Tires for Skid Steer Loaders and light construction equipment
MICHELIN X® TWEEL™
Tires for Golf Cars & Utility Carts
DISCOVER A FEW MICHELIN X® TWEEL™ RANGES
Our different MICHELIN X® TWEEL™ ranges are designed to adapt to your different needs, vehicles and machines such as skid steer, material handling vehicles, UTV, ... Discover some of our ranges:
NO AIR TIRES FREQUENTLY ASKED QUESTIONS (FAQs)
Tweel tires represent a significant technological progress in the tire industry and have been performing successfully in the market since 2012. This alternative to traditional tire allows us to make fuel efficiency, consider more durable tire and especially no puncture tires.
WHAT TO CHECK ON TIRES WITHOUT AIR ?
Airless tires, also known as non-pneumatic tires, are designed to eliminate the need for air pressure maintenance. However, like any other tire, airless tires still require some inspection to ensure proper performance and longevity. For example, tread
wear, debris and dirt, vehicle alignment, load capacity, and storage.
ARE AIRLESS TIRES AVAILABLE FOR PASSENGER CARS?
Michelin has already developed a prototype for a no air tire for passenger car and light truck: the MICHELIN UPTIS.
WHAT IS THE DIFFERENCE BETWEEN MICHELIN TWEEL AND MICHELIN UPTIS?
MICHELIN UPTIS (Unique Puncture-proof Tire System) and MICHELIN Tweel are both innovative tire technologies developed by Michelin, but they are different in design and function.
MICHELIN UPTIS is an airless tire designed for passenger cars and light trucks (on road vehicles) while MICHELIN Tweel is adapted to a wider range of off-road vehicles.
WHEN WILL MICHELIN AIRLESS TIRES BE AVAILABLE?
Our Michelin innovative technology, the Tweel, is available for sale on the market since 2012.
You can find our complete MICHELIN X® TWEEL™ product portfolio at our dealers.
This is not the same kind of polyurethane you normally find in the marketplace. Poly resin is structural polyurethane. It is
specifically formulated for this application.
ARE MICHELIN TWEEL AIRLESS RADIAL TIRES CURED LIKE RADIAL TIRES?
Michelin has adapted technical curing processes from its high performance tires for use in the production of MICHELIN X® TWEEL™ airless radial tires. In addition, Michelin has developed proprietary casting, injecting, and bonding processes for MICHELIN X® TWEEL™ products.
HAS THE MICHELIN TWEEL AIRLESS RADIAL TIRE WON ANY AWARDS ?
Since 2012, the MICHELIN X® TWEEL™ Airless Radial Tire and its co-inventors have been presented with over 15 awards.
A Silver Award in the Transportation category was awarded to the MICHELIN X® TWEEL™ SSL on April 26, 2013 by the 2013 Edison Awards. Of the 7,156 applications received, 131 finalists were selected by the Edison Awards Committee. The MICHELIN X® TWEEL™ was one of 42 winners, who represented 12 categories and symbolize the persistence and excellence personified by Thomas Alva Edison.
TheMICHELIN X® TWEEL™ SSL was selected as one of the 2013 Contractors' Top 50 New Products by readers of Equipment Today as one of the industry's most innovative products for the year.
In January 2014, Equipment World named one of the "five game-changing" construction products of 2013 for their 2014 Innovations Awards. The MICHELIN X® TWEEL™ SSL was named as one of those five product winners.
Dr. Tim Rhyne, a senior research fellow with Michelin Americas Research and Development Corporation, was selected as a 2014 recipient by the editors at Engineering News-Record (ENR) as a top 25 Newsmakers of the year for his work on the revolutionary MICHELIN X® TWEEL™ airless radial tire technology in April. The award recognizes individuals "with the passion, drive and courage to tackle the most difficult challenges and make our world a better place."
In June 2014, Michelin North America, Inc. received a Manufacturing Leadership Award in the Product Leadership category at the 2014 Manufacturing Leadership Awards for the MICHELIN X® TWEEL™ SSL by the Frost & Sullivan's Manufacturing Leadership Council. The awards were presented in 11 categories and celebrate companies and individuals that are shaping the future of global manufacturing. They recognize outstanding projects undertaken and completed by manufacturing companies. According to the Manufacturing Leadership Community, the award winners distinguish themselves by "embracing breakthrough innovation and respond to customers with unmatched agility." The Product Leadership award, one of the most competitive categories, recognizes companies that have introduced disruptive new products that expand or open new markets. The award winner demonstrates the ability to generate new ideas that lead to pioneering new products that change and create markets.
In March 2015, Michelin Tweel Technologies received the John Deere "Innovation of the Year Award" for the MICHELIN X® TWEEL™ TURF. The award is presented to a select group of suppliers that have demonstrated innovation in a product or service they provide to John Deere. Award selections are based on four factors: creativity, feasibility, collaboration and bottom-line impact. John Deere created the supplier innovation awards in 2010 to promote innovation in the company's supply base and recognize suppliers that think creatively.
In October 2015, the MICHELIN X® TWEEL™ received an Honorable Mention in the Automotive/Transportation category in the 2015 Create the Future Design Contest. Chosen from more than 1,150 new product ideas submitted from 60 countries, the 22 winners and honorable mentions were judged on innovation, manufacturability and marketability in seven categories. Launched in 2002 by the publishers of NASA Tech Briefs magazine to help stimulate and reward engineering innovation, the Create the Future Design Contest annual event has attracted more than 10,000 product design ideas from engineers, entrepreneurs, and students worldwide. More than 55 judges worldwide on the magazine's editorial board of readers and contest sponsors reviewed the submissions in the Aerospace & Defense, Automotive/Transportation, Consumer Products, Electronics, Machinery/Automation/Robotics, Medical Products, and Sustainable Technologies categories.
CAN THE MICHELIN TWEEL BE RETREADED?
Currently, the MICHELIN X® TWEEL™ SSL is the only Tweel with commercially available retread options. Please consult a certified Michelin retread dealer for specific details on retread process recommendations.
WHERE AND WHEN MICHELIN TWEEL WAS INVENTED? AND BY WHOM?
It was over lunch in the late 1990s in Greenville S.C. that Dr. Tim Rhyne with fellow Michelin engineer and co-inventor Steve Cron had the idea of challenging pneumatic tire technology and exploring new and revolutionary concepts for this essential component of mobility. Patents began to be issued on various aspects of the concept in 1999, 2000 and 2003.
WHEN DID MICHELIN INTRODUCE THE FIRST PROTOTYPE?
Over the following decade, the engineers worked diligently on various prototypes of the MICHELIN X® TWEEL™ Airless Radial Tire and, in 2005, the product was finally showcased at the North American International Auto Show in Detroit Michigan on the iBOT wheelchair and Segway Concept Centaur Human Transporter. The commercial launch of the MICHELIN X® TWEEL™ SSL for skid steer loaders was in July 2012.
HOW LONG DO AIRLESS TIRES LAST?
High-performance compounds and an efficient contact patch designed to provide a long wear life that is 2-3 times that of a pneumatic tire at equal tread depth.
CAN TWEEL BE REPAIRED (TORN SPOKE, ADHESION TO SHEAR BEAM)?
A technician can repair partially torn spokes by blunting the polyurethane crack tip to arrest further crack propagation,
and once repaired, this can potentially double the life of the torn or cut spoke.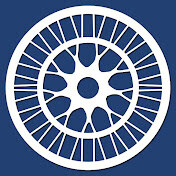 Michelin airless Youtube Channel
Stay informed of our latest news on our Youtube channel.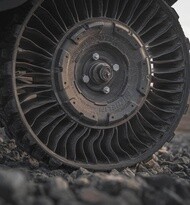 The MICHELIN Tweel has created a lot of interest and won many awards.
Are you interested? Contact us!
Would you like more information on no air tires? Have you been convinced to change to MICHELIN Tweel? Contact us!