MICHELIN
X ONE® LINE ENERGY D Custom Mold Retread
The Michelin X ONE® LINE ENERGY D Custom Mold Retread / Recap offers fuel economy* with long tread life and excellent traction in a line haul energy drive retread.
WHAT IS RETREAD / RECAP?
The X One® Line Energy D Custom Mold Retread utilizes Michelin Retread Technologies' 9-step manufacturing process to ensure the retreat, sometimes referred to as a recap, recapped tire or remold, meets new-tire manufacturing standards. By having your fleet's tires retreaded or recapped, you can protect your bottom line and the planet by helping reduce the millions of tires that are discarded in landfills each year. Click here to find a Michelin Retread tire dealer near you.
WHY THIS RETREAD/ RECAP?
Driver confidence comes from seamless, splice-less, new tire appearance, outstanding traction from Zig-Zag Siping and maximum tread to shoulder adhesion.
More revenue via weight saved & payload added with X One tires vs. dual tires.
Fuel economy* from a unique fuel efficient Advanced Technology Compound Tread.
Long tread life delivered by Zig-Zag Siping and unique Advanced Technology Compound Tread that promote even wear.
21/32nds original tread depth
1. Fuel Economy
No compromise fuel efficiency from a unique fuel-efficient Advanced Technology Compound Tread
2. Full Depth Zig-Zag Siping
Promotes even wear and long tread life; as well as provides thousands of biting edges for traction
3. Unique Advanced Technology Compound Tread
Provides exceptional wear properties
4. Max Secured Tread
Provides maximum tread-to-shoulder adhesion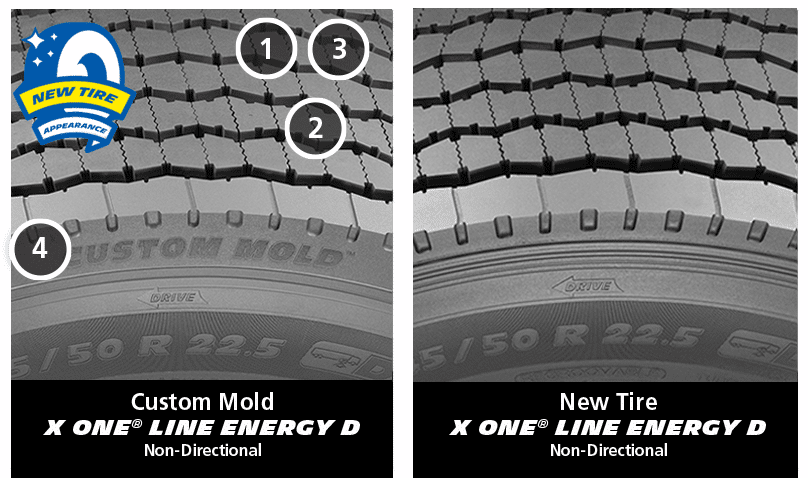 Michelin X ONE LINE ENERGY™ D Custom Retread / Recap
REFERENCE MATERIALS - DOCUMENTS
Michelin X ONE® LINE ENERGY D Custom Mold Retread / Recap Product Sheet
Michelin Retread Technologies Quick Reference Tread Guide
Michelin Retread Technologies, Inc. National Limited Warranty and Enhanced Michelin X One® Casing Warranty
Michelin SmartWay® Verified Retreads
Michelin SmartWay Retreads
Michelin Truck Tire Data Book
Technical specification
| | |
| --- | --- |
| Casing Size | 445/50R22.5 |
| Tread Depth | 21/32 nds |
| MSPN | 76662 |
Mold Cure Process
The application of tread in a mold cure retreading process is very similar to that in the new tire manufacturing process. Uncured tread rubber is applied to a buffed casing. The prepared casing, built to the correct diameter with uncured rubber, is now ready to be place in the mold for curing. Custom-Mold is not available at all MRT locations. Only available in select geographic areas.
* Based on industry standard rolling resistance testing of comparable drive tires and retreads. Actual results may vary, and may be impacted by many factors, to include road conditions, weather and environment, driver performance, etc.