MICHELIN
X ONE® LINE GRIP D Pre-Mold Retread
Building on the Michelin new tire heritage, the Michelin X One® Line Grip D retread is the long wearing, outstanding traction Michelin X One® drive retread / recap for line haul and regional applications.
WHY THIS RETREAD / RECAP?
Excellent Stability – Extra-Wide Tread – Provides stability while helping to improve handling and mileage.
Long Tread Life with Exceptional Traction from Wide, Open Shoulder Grooves. 30% More Mileage Challenge Guarantee*
Shoulder Adhesion – Winged Tread – Provides maximum shoulder adhesion in high scrub applications.
27/32nds original tread depth
Outstanding Traction and Even Wear – Matrix sipes help provide inter-locking action which offers excellent traction and even wear. Zig-Zag groove walls help provide optimized biting edges and excellent water and snow evacuation. Full depth sipes help provide excellent traction throughout the life of the tread.
Exclusive, unique two-layer compound designed to minimize internal casing temperatures for longer tread and casing life.
1. Optimized Deep Tread
Long, Even Tread Life – Designed for long mileage and even wear.
2. Matrix Siping
Traction and Even Wear – Full depth, interlocking sipes with zig-zag walls to provide thousands of biting edges for traction, and lug-like performance for even wear.
3. Wide, Open Shoulder
Driver Confidence – Open shoulder design provides additional traction in adverse weather and snow conditions.
4. Winged Tread*
Shoulder Adhesion – Winged tread provides maximum tread-to-shoulder adhesion in high scrub applications.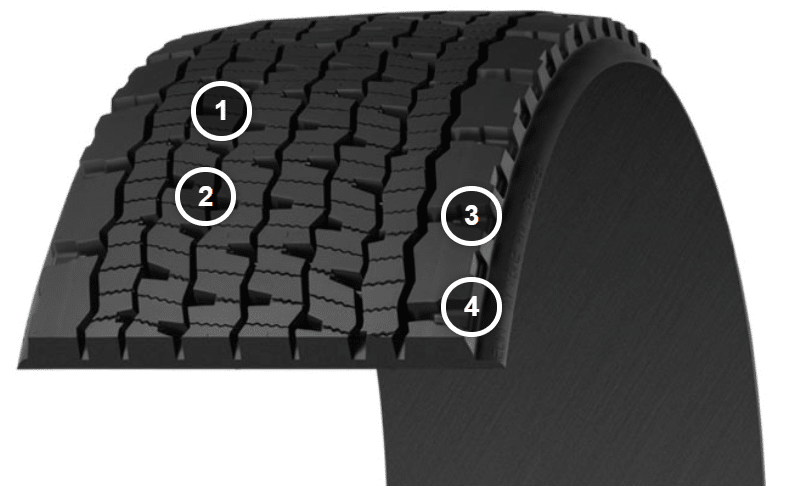 Michelin X ONE® LINE GRIP D Pre-Mold Retread / Recap
REFERENCE MATERIALS - DOCUMENTS
Michelin X ONE® LINE GRIP D Pre-Mold Retread / Recap Product Sheet
Michelin Retread Technologies, Inc. National Limited Warranty and Enhanced Michelin X One® Casing Warranty
Michelin Retread Technologies Quick Reference Tread Guide
Michelin Truck Tire Data Book
Technical specification
| | |
| --- | --- |
| Casing Size | 445/50R22.5 |
| Tread Width | 375 mm |
| Tread Depth | 27/32 nds |
| MSPN | 16284 |
Pre Mold Process
Also known as a "pre-cure" process. Tread rubber used in this process is molded and pre-cured by the tread rubber manufacturer, Michelin Retread Technologies (MRT). The appropriate tread is selected – design, width, thickness – and applied to a prepared casing. The casing is prepared by placing a cushion gum bonding layer between the tread and casing. The tire then moves to the chamber for curing.
* Tread widths with two measurements have wings. The first number is tread base width in mm. The second number is the overall width, wing tip to tip.