MICHELIN
XD4® Pre-Mold Retread
Drive position retread designed for high torque conditions, e.g. 4x2's, in line haul and regional applications.
WHY THIS RETREAD?
Extra deep tread design optimized for high torque applications e.g. 4x2's.
Open shoulder design helps deliver exceptional traction.
Unique scrub resistant compound
Also available as a Custom Mold retread.
28/32nds original tread depth
1. Application Specific Compounds
Long Tread Life – Unique scrub resistant compound delivers long tread life for high torque conditions.
2. Optimized Deep Tread
Long, Even Tread Life – Designed for long mileage and even wear.
3. Open Shoulder
Traction – Wide open shoulder grooves help deliver traction without compromising tread life.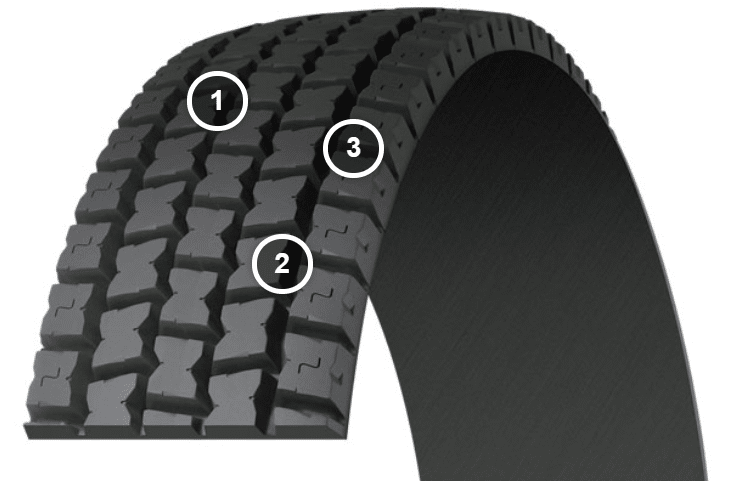 Michelin XD4 Pre-Mold Retread / Recap
REFERENCE MATERIALS - DOCUMENTS
MICHELIN® XD4® Pre-Mold Retread Product Sheet
MICHELIN® Truck Tire Data Book
Michelin Retread Technologies, Inc. National Limited Warranty and Enhanced MICHELIN® X One® Casing Warranty
Michelin Retread Technologies Quick Reference Tread Guide
Technical specification
| | |
| --- | --- |
| Casing Size | 10R22.5 |
| Tread Width | 210 mm |
| Tread Depth | 28/32 nds |
| MSPN | 55706 |
Pre Mold Process
Also known as a "pre-cure" process. Tread rubber used in this process is molded and pre-cured by the tread rubber manufacturer, Michelin Retread Technologies (MRT). The appropriate tread is selected – design, width, thickness – and applied to a prepared casing. The casing is prepared by placing a cushion gum bonding layer between the tread and casing. The tire then moves to the chamber for curing.