All-position wide base single designed for significant weight and fuel savings* in on/off road applications.
WHY THIS TIRE?
Enhanced protection against stone drilling from variable pitch groove walls and groove bottom protectors in center grooves.
Great bead durability and resistance to heat from reinforced bead package featuring a wide metallic chafer.
Long tread life and outstanding chip and cut resistance in on/off road service with 23/32nds original tread depth of application-specific compound.
Flat, stable contact area for long, even wear provided by Michelin's Infini-Coil®, featuring a 1/4 mile of steel cable to help eliminate casing growth.
1. Groove Bottom Protector
Casing Durability – Protects against stone drilling.
2. Anti-Cut/Chip Compound
Long Tread Life – Protects against aggression, chipping and scaling.
3. Co-Ex Technology
Long Life – Delivers excellent scrub resistance and a cool running casing, while allowing for a 75 mph rating.
4. Extra Thick Sidewall and Shoulder
Long Tread Life – Delivers extra protection against shocks and impacts.
5. Optimized Tread Design
Driver Confidence – Outstanding wet and soft soil traction with aggressive shoulder rib design.
6. Extended Metallic Chafer
Casing Durability – Extends casing life by protecting the bead from high temperatures.
7. Infini-Coil®
Casing Durability – Incorporates a 1/4 mile of steel cable to help eliminate casing growth and ensure a consistent footprint.
8. Rounded Bead Toe
Casing Durability – Helps with tire mounting and demounting, reducing bead damage.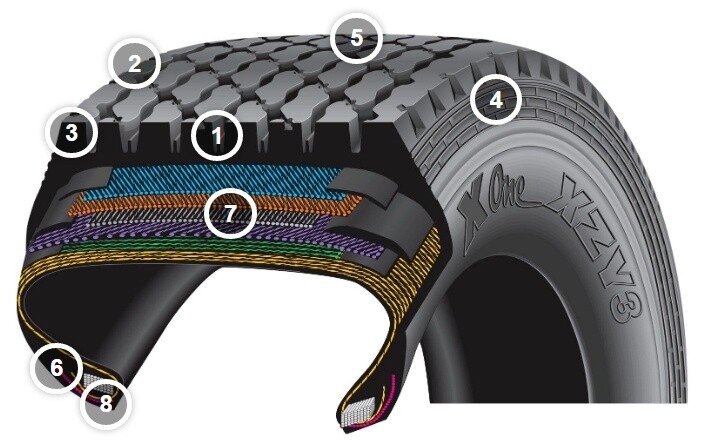 Michelin X ONE XZY 3 graphic
Michelin X One XZY3 Tire at Yellowstone's Norris Pit
REFERENCE MATERIALS - DOCUMENTS
Michelin X One Total Satisfaction Guarantee
Michelin X One Total Satisfaction Guarantee - Secondary Market Tractor or Trailer
MICHELIN® Truck Tire Warranty
Michelin X One Total Satisfaction Guarantee - New Truck or Trailer
Michelin Road Hazards Guarantee
Michelin Truck Tire Data Book
Michelin Truck Tire Reference Chart
RELATED SERVICES AND SOLUTIONS
Technical Specifications
| | |
| --- | --- |
| Product | MICHELIN X ONE XZY3 - 455/55R22.5 |
| Overall Diameter | 1065 mm / 41.9 inch |
| Recommended Wheels | 14.00 |
| Tread depth | 23 32nds / 18.3 mm |
| Max Speed | 75 mph / 121 kmh |
| Max Load per Tire Single | 11700 lbs / 5300 kg |
| Loaded Radius | 492.2 mm / 19.4 inch |
| Seat diameter | 22.5 |
| Suitable for RV | No |
| CAI | 187824 |
| MSPN | 11629 |
* Based on industry standard rolling resistance testing of comparable tires or retreads. Actual results may vary, and may be impacted by many factors, to include road conditions, weather and environment, driver performance, etc.