Euro Truck Simulator 2: gamifying the life of a trucker
Truck drivers are independent – facing challenges, discovering new locations, and are considered everyday heroes. People worldwide are living out their truck driver dreams with Euro Truck Simulator 2, and popular brands are getting involved too.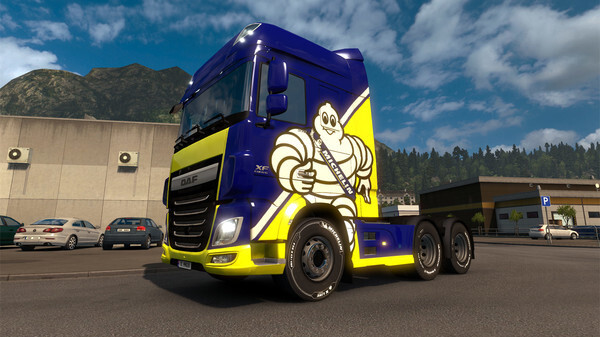 michelin truck on euro sim
Hardcore fans of real brands
If you don't know about 'Euro Truck Simulator 2', it's a popular video game where players drive their own semi-truck. They start out as a newly-hired driver, tasked with delivering cargo. As the player advances in the game, they drive through famous cities and picturesque stretches of road, haul bigger and bigger loads, move up the ranks and can eventually start their own company and manage their own truck fleet. Throughout the game, they're able to customize their vehicles.
"When we first launched the Euro Truck Simulator 2, we had to create a lot of content, really quickly," remembers Pavel Sebor, CEO of SCS Software(1). As a result, early versions of the game were much less detailed than the life-like version now on the market. Today, hardcore fans have upped their expectations. "The more realistic we make it, the better our players feel," he indicates. "They don't want to drive a truck with an invented brand name or an invented tire name. They want to play with the brands they know and love."
"Players don't want to drive a truck with an invented brand name or an invented tire name. They want to play with the brands they know and love."

Pavel Sebor, CEO of SCS Software creator of Euro Truck Simulator 2
Which is why brands, like Michelin, have taken center stage in this success story. Michelin began collaborating with the company more than seven years ago to allow for Michelin brand content to be included in the game. The goal was to have brands and products familiar to drivers to help authenticate the experience for players.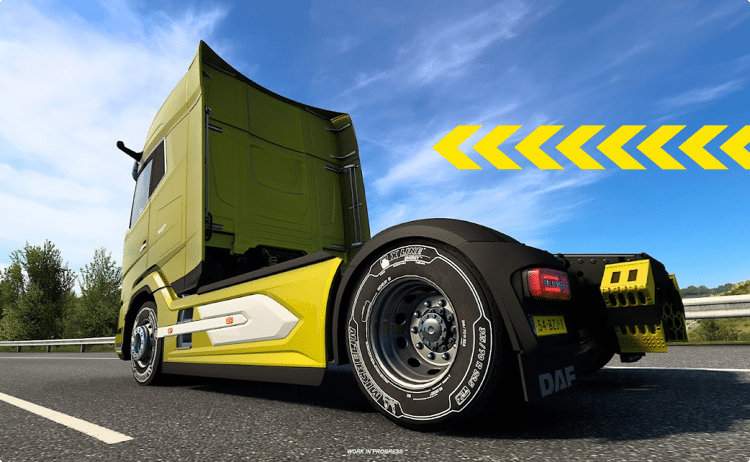 Personalization takes the front seat
"The tuning element is huge," says Sebor. "The trucks in our game are like huge barbie dolls ౼ you can change the mirrors, the design, add deflectors ౼ it's important for people to be in control of how their truck looks." Players seeking a genuinely immersive experience can buy the Michelin Fan Pack. The add-on includes a highly detailed range of truck tires so players can pick the appropriate tire for their application. The fan pack also lets players paint their truck in Michelin's signature blue and yellow, add Michelin licensed products such as caps, coolers and air fresheners to the interior of their cab and, of course, the international trend of putting the iconic Michelin Man mascot atop their truck.
Michelin has been voted one of the best, most recognizable brands in the world several times over ౼ so it comes as no surprise that the fan pack has been downloaded upwards of 600,000 times since going on sale in Jan 2017.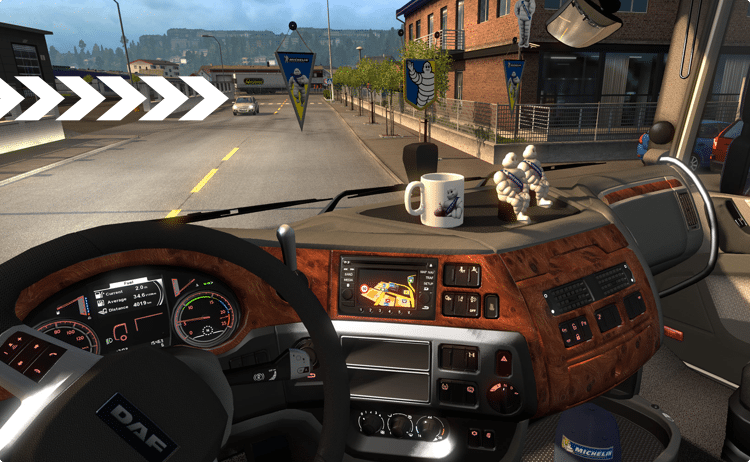 Next Up
Over the years, players have gone from just seeing their truck in the game have Michelin tires, to being able to choose the type of Michelin tire they want to use and having access to other branded products for decorating their truck. The next stage, if approved, would be to help show how realistic the experience is for players by focusing on the safety and longevity that Michelin brand can provide.
That deeper experience will, for instance, mean integrating real performance and safety aspects into the game. For example, rolling resistance and wet braking performance, which are highly dependent on the technology inside the tire, but also the way people inflate and maintain truck tires.
The future for Sebor will be focused on keeping up with demand. "Staying relevant and on the edge of technological progress is a never ending challenge. The job is never done!" he says. "Whether it's adding a deer running across the road, a new scenic route...there's always new features to add, there's always fans asking for more. Rapid, constant growth is demanding, but it's a nice problem to have."
Euro Truck Simulator 2: Michelin Fan Pack DLC Update!

By the numbers: Euro Truck Simulator 2
2012 Launch date
7 Major truck brands
9 Michelin tires to choose from
7 customisable Michelin cabin accessories
97% Steam rating in 2021
79% Metacritic rating in 2019

Focus on… the current Michelin Fan Pack
Euro Truck Simulator 2 players can choose from four categories of Michelin Tires to outfit their vehicles.
Euro Truck Simulator 2: Michelin Fan Pack DLC Update
(1)Interview by Pavel Sebor conducted on 7 October 2021
(2)Interview by Mike Lawton conducted on 11 October 2021
*The "Euro Truck Simulator 2" trademark is a registered right of SCS Software s.r.o. All other brand names, trademarks, registered marks, logos, and symbols on vehicles in the game are property of their rightful owners.