3 tips to avoid a roadside breakdown
Truckers don't want roadside breakdowns. They are stressful, costly, dangerous and time-consuming. With some planning and preventive maintenance, you can avoid most roadside breakdowns.
A roadside semi-truck repair can cost four times as much as one done in a garage! Along with costing you more money, a roadside truck breakdown will also cost you time as you wait for a tow, and then wait for parts and emergency repair. All that time spent waiting on emergency repairs is time you aren't hauling cargo, which will ultimately impact your bottom line.
Here are 3 tips to save you time and money by avoiding a semi-truck breakdown!
Plan Ahead
You can save as much as 50%* on repairs, boost overall safety and extend the lifespan of your fleet with just a little bit of truck Preventive Maintenance (PM). The key is to train drivers and technicians to ensure that vehicles are "roadworthy" before and after each trip.
Verifying visible damage and tire pressure pre- and post-trip is not only good for fuel economy and general wear and tear, but also can prevent a blowout, which accounts for as much as 25%* of breakdowns.
Truck Preventive Maintenance also includes visually checking other key areas, such as:
• mirrors,
• wipers,
• windshields,
• brakes,
• oil,
• engine coolant levels,
• lights in order to identify minor issues before they become major.
Scheduling repairs and tuneups during off-hours can further reduce downtime.
Look for the Signs
While not all roadside truck breakdowns are preventable, many are. Teach your team to look for key signs while on the road. For example, flickering lights while idling, could signal a problem with the alternator or battery or overheating could signal radiator troubles, which if left unaddressed, could lead to severe engine problems. Sometimes signals can be as clear as a blinking "check oil" light.
While it's easy to put off "till tomorrow," oil leaks can cause engines to break down or even burn other parts of the vehicle
Have a plan in place
Even the most well-maintained trucks can break down, so it's essential that your fleet knows what to do if they're stranded on the side of the road. The safety of the truck driver and other passing traffic is of utmost importance. Drivers should know who to call, how to chock the wheels or otherwise secure the truck and be familiar with roadside safety protocol.
As technology develops, predictive maintenance procedures are becoming more mainstream as well. This data-driven approach to maintenance relies on onboard sensors and advanced digital systems to automatically detect problems before they arise, order parts ahead of time, better plan for repairs and better allocate technicians and drivers' time.
Whether your fleet relies on sensors or their own five senses, the bottom line remains the same: anticipating maintenance issues will minimize truck breakdowns and keep your trucks on the road!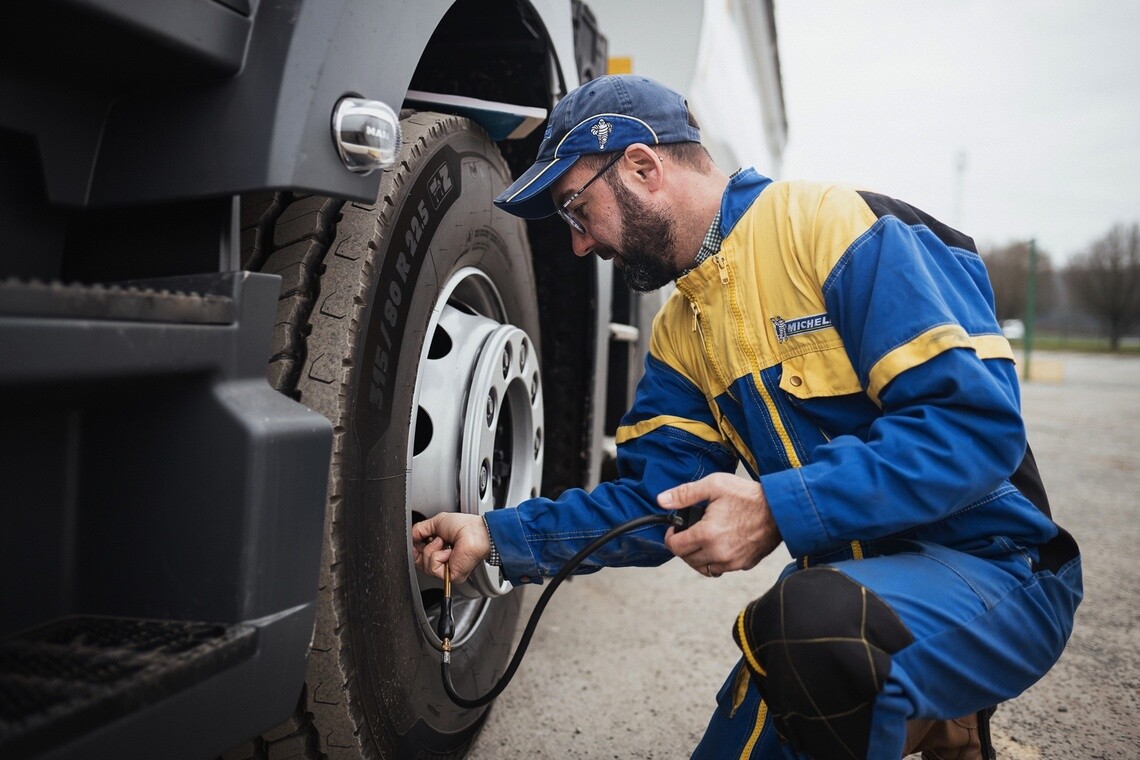 Michelin ONCall: the roadside truck breakdown service
Don't waste time on the side of the road because of a truck breakdown. Get back on track faster with Michelin's tire and mechanical roadside services.
Discover our roadside truck repair service for trucks that combines simplicity, speed and efficiency. In the event of an incident, a simple call or click sets everything in motion!