MICHELIN
XZE 2 Standard Sizes
Exceptional regional, all-position radial with extra-wide, extra-deep tread designed to help deliver our best wear in high scrub regional and urban applications.
WHY THIS TIRE?
Enhanced application-specific compound to help promote resistance to aggressions and longer tread life.
6% wider tread for improved wear and handling (when compared to Michelin XZE tire).
Matrix and micro sipes protect against irregular wear.
Zig-zag grooves and sipes help increase traction in new and worn tire conditions.
North American design.
1. Application Specific Compounds
Long Tread Life – Promotes resistance to aggressive scrub conditions.
2. Rib Edge Micro Sipes
Long Tread Life – Protects against the early onsite of irregular wear.
3. Wide Tread Design
Long Tread Life – Distributes force over a larger contact area.
4. Rectangular Bead Bundle
Casing Durability – Simulates a solid steel rod "strapping" the tire onto the wheel. This design stabilizes the entire bead region and minimizes fatigue in order to extend casing life.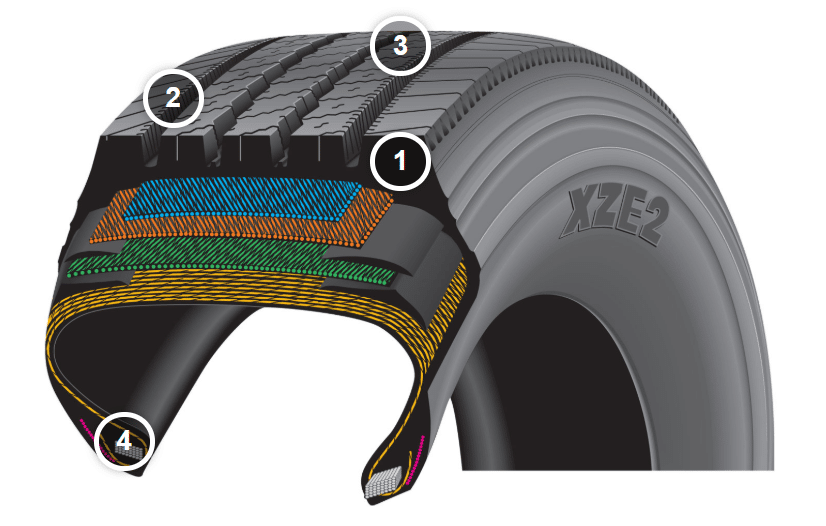 Michelin XZE2 Standard Sizes graphic
REFERENCE MATERIALS - DOCUMENTS
Keep Moving with Michelin
RELATED SERVICES AND SOLUTIONS
Technical Specifications
| | |
| --- | --- |
| Product | MICHELIN XZE 2 - 11R22.5 |
| Overall Diameter | 1051 mm / 41.4 inch |
| Recommended Wheels | 8.25 |
| Approved Wheels | 7.50 |
| Min Dual Spacing | 318 mm / 12.5 inch |
| Tread depth | 22 32nds / 17.5 mm |
| Max Speed | 75 mph / 121 kmh |
| Max Load per Tire Single | 6610 lbs / 3000 kg |
| Loaded Radius | 488.5 mm / 19.2 inch |
| Seat diameter | 22.5 |
| Suitable for RV | Yes |
| CAI | 692442 |
| MSPN | 67042 |
Retread Offer
| Retread Name | Position | Application | Tread Depth | Tread Width |
| --- | --- | --- | --- | --- |
| MICHELIN XZA - 11R22.5 | Z | Line Haul, Regional Transport | 13/32 nds | 170 mm |
| MICHELIN XZA - 11R22.5 | Z | Line Haul, Regional Transport | 20/32 nds | 240 mm |
| MICHELIN XZA - 11R22.5 | Z | Line Haul, Regional Transport | 15/32 nds | 203 mm |
| MICHELIN XZA - 11R22.5 | Z | Line Haul, Regional Transport | 15/32 nds | 219 mm |
| MICHELIN XZA - 11R22.5 | Z | Line Haul, Regional Transport | 13/32 nds | 180 mm |
| MICHELIN XZA - 11R22.5 | Z | Line Haul, Regional Transport | 15/32 nds | 225 mm |
| MICHELIN XZA - 11R22.5 | Z | Line Haul, Regional Transport | 15/32 nds | 211 mm |
| MICHELIN XZA - 11R22.5 | Z | Line Haul, Regional Transport | 15/32 nds | 194 mm |
| MICHELIN XZA Siped - 11R22.5 | Z | Line Haul, Regional Transport | 13/32 nds | 180 mm |
| MICHELIN XZA Siped - 11R22.5 | Z | Line Haul, Regional Transport | 15/32 nds | 194 mm |
| MICHELIN XZA Siped - 11R22.5 | Z | Line Haul, Regional Transport | 15/32 nds | 225 mm |
| MICHELIN XZA Siped - 11R22.5 | Z | Line Haul, Regional Transport | 15/32 nds | 219 mm |
| MICHELIN XZA Siped - 11R22.5 | Z | Line Haul, Regional Transport | 15/32 nds | 211 mm |
| MICHELIN XZA Siped - 11R22.5 | Z | Line Haul, Regional Transport | 15/32 nds | 203 mm |
| MICHELIN XZE - 11R22.5 | Z | Line Haul, Regional Transport | 18/32 nds | 240 mm |
| MICHELIN XZE - 11R22.5 | Z | Line Haul, Regional Transport | 18/32 nds | 250 mm |
| MICHELIN XZE - 11R22.5 | Z | Line Haul, Regional Transport | 18/32 nds | 177 mm |
| MICHELIN XZE - 11R22.5 | Z | Line Haul, Regional Transport | 18/32 nds | 219 mm |
| MICHELIN XZE - 11R22.5 | Z | Line Haul, Regional Transport | 18/32 nds | 225 mm |
| MICHELIN XZE - 11R22.5 | Z | Line Haul, Regional Transport | 18/32 nds | 211 mm |
| MICHELIN XZE - 11R22.5 | Z | Line Haul, Regional Transport | 18/32 nds | 194 mm |
| MICHELIN XZE - 11R22.5 | Z | Line Haul, Regional Transport | 18/32 nds | 203 mm |
| MICHELIN XZE 2 - 11R22.5 | Z | Regional Transport | 20/32 nds | 240 mm |
| MICHELIN XZE 2 - 11R22.5 | Z | Regional Transport | 20/32 nds | 250 mm |
| MICHELIN XZE Siped - 11R22.5 | Z | Line Haul, Regional Transport | 18/32 nds | 225 mm |
| MICHELIN XZE Siped - 11R22.5 | Z | Line Haul, Regional Transport | 18/32 nds | 219 mm |
| MICHELIN XZE Siped - 11R22.5 | Z | Line Haul, Regional Transport | 18/32 nds | 194 mm |
| MICHELIN XZE Siped - 11R22.5 | Z | Line Haul, Regional Transport | 18/32 nds | 211 mm |
| MICHELIN XZU 2 - 11R22.5 | Z | Urban Transport | 24/32 nds | 240 mm |
| MICHELIN XZU 2 - 11R22.5 | Z | Urban Transport | 24/32 nds | 250 mm |
| MICHELIN XZU S - 11R22.5 | Z | Urban Transport | 26/32 nds | 230 mm |
| MICHELIN XZU S - 11R22.5 | Z | Urban Transport | 26/32 nds | 250 mm |
| MICHELIN XZU S - 11R22.5 | Z | Urban Transport | 26/32 nds | 240 mm |
| MICHELIN XZU S - 11R22.5 | Z | Urban Transport | 26/32 nds | 220 mm |