MICHELIN
XDS 2 Standard Sizes
Second generation of Michelin's best drive axle radial for deep snow and mud traction.
WHY THIS TIRE?
Rugged directional tread design helps boost snow and ice traction and helps reduce heel/toe wear typically associated with open shoulder designs.
Michelin Durable Technology's Matrix 3-Dimensional siping for enhanced stability and exceptional traction in both dry and slippery conditions.
Extra robust four-belt crown package with extra wide working plies help deliver exceptional casing life.
Full-width elastic protector ply and extra thick rubber under the tread help protect the working plies from shocks, bruises and impacts.
SipeSaver teardrop at the base of the sipes relieves stresses and helps prevent tearing.
1. Application Specific Compounds
Driver Confidence – Designed to deliver maximum traction in snow conditions.
2. Extra Thick Sidewall and Shoulder
Long Tread Life – Delivers extra protection against shocks and impacts.
3. Sipe Saver Technology
Long Tread Life – A teardrop at the base of the shoulder sipe relieves stress and helps prevent tearing.
4. Matrix Siping
Traction and Even Wear – Full depth, interlocking sipes with zig-zag walls to provide thousands of biting edges for traction, and lug-like performance for even wear.
5. Directional Tread Design
Long Tread Life – Offers protection against irregular wear.
6. Rectangular Bead Bundle
Casing Durability – Simulates a solid steel rod "strapping" the tire onto the wheel. This design stabilizes the entire bead region and minimizes fatigue in order to extend casing life.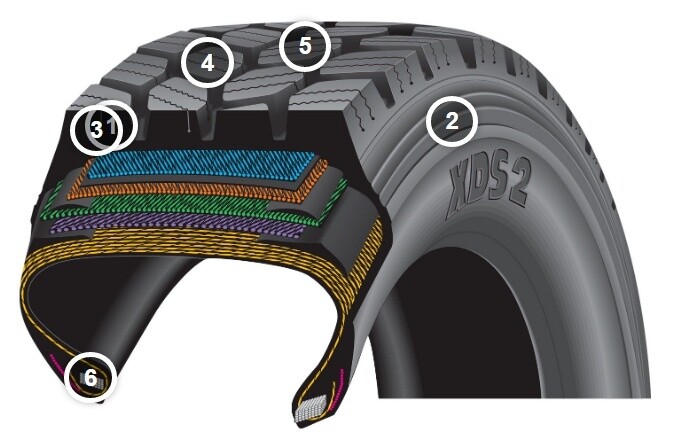 Michelin XDS 2 Standard Sizes
REFERENCE MATERIALS - DOCUMENTS
Keep Moving with Michelin
Technical Specifications
| | |
| --- | --- |
| Product | MICHELIN XDS2 - 11R22.5 |
| Overall Diameter | 1065 mm / 41.9 inch |
| Recommended Wheels | 8.25 |
| Approved Wheels | 7.50 |
| Min Dual Spacing | 318 mm / 12.5 inch |
| Tread depth | 26 32nds / 20.6 mm |
| Max Speed | 65 mph / 105 kmh |
| Max Load per Tire Single | 6610 lbs / 3000 kg |
| Loaded Radius | 497.5 mm / 19.6 inch |
| Seat diameter | 22.5 |
| Suitable for RV | No |
| CAI | 166182 |
| MSPN | 05359 |
Retread Offer
| Retread Name | Position | Application | Tread Depth | Tread Width |
| --- | --- | --- | --- | --- |
| MICHELIN MD XDN2 - 11R22.5 | D | Regional Transport | 18/32 nds | 190 mm |
| MICHELIN MD XDN2 - 11R22.5 | D | Regional Transport | 18/32 nds | 200 mm |
| MICHELIN MD XDN2 - 11R22.5 | D | Regional Transport | 20/32 nds | 210 mm |
| MICHELIN MD XDN2 - 11R22.5 | D | Regional Transport | 20/32 nds | 220 mm |
| MICHELIN MD XDN2 - 11R22.5 | D | Regional Transport | 20/32 nds | 230 mm |
| MICHELIN X Multi D - 11R22.5 | D | Regional Transport, Urban Transport | 28/32 nds | 230 mm |
| MICHELIN X Multi D - 11R22.5 | D | Regional Transport, Urban Transport | 28/32 nds | 220 mm |
| MICHELIN X Multi D - 11R22.5 | D | Regional Transport, Urban Transport | 28/32 nds | 240 mm |
| MICHELIN X Multi Energy D - 11R22.5 | D | Regional Transport | 21/32 nds | 240 mm |
| MICHELIN X Multi Energy D - 11R22.5 | D | Regional Transport | 21/32 nds | 230 mm |
| MICHELIN X Multi Energy D - 11R22.5 | D | Regional Transport | 21/32 nds | 220 mm |
| MICHELIN XD4 - 11R22.5 | D | Line Haul, Regional Transport | 28/32 nds | 220 mm |
| MICHELIN XD4 - 11R22.5 | D | Line Haul, Regional Transport | 28/32 nds | 230 mm |
| MICHELIN XD4 - 11R22.5 | D | Line Haul, Regional Transport | 28/32 nds | 210 mm |
| MICHELIN XDC 22 - 11R22.5 | D | Line Haul, Regional Transport | 22/32 nds | 211 mm |
| MICHELIN XDC 22 - 11R22.5 | D | Line Haul, Regional Transport | 22/32 nds | 225 mm |
| MICHELIN XDC 22 - 11R22.5 | D | Line Haul, Regional Transport | 22/32 nds | 219 mm |
| MICHELIN XDE M/S - 11R22.5 | D | Regional Transport | 22/32 nds | 230 mm |
| MICHELIN XDE M/S - 11R22.5 | D | Regional Transport | 18/32 nds | 180 mm |
| MICHELIN XDE M/S - 11R22.5 | D | Regional Transport | 20/32 nds | 190 mm |
| MICHELIN XDE M/S - 11R22.5 | D | Regional Transport | 22/32 nds | 220 mm |
| MICHELIN XDE M/S - 11R22.5 | D | Regional Transport | 20/32 nds | 200 mm |
| MICHELIN XDE M/S - 11R22.5 | D | Regional Transport | 22/32 nds | 210 mm |
| MICHELIN XDHT - 11R22.5 | D | Line Haul, Regional Transport | 23/32 nds | 240 mm |
| MICHELIN XDHT - 11R22.5 | D | Line Haul, Regional Transport | 23/32 nds | 194 mm |
| MICHELIN XDHT - 11R22.5 | D | Line Haul, Regional Transport | 23/32 nds | 203 mm |
| MICHELIN XDHT - 11R22.5 | D | Line Haul, Regional Transport | 23/32 nds | 211 mm |
| MICHELIN XDHT - 11R22.5 | D | Line Haul, Regional Transport | 23/32 nds | 219 mm |
| MICHELIN XDHT - 11R22.5 | D | Line Haul, Regional Transport | 23/32 nds | 232 mm |
| MICHELIN XDHT - 11R22.5 | D | Line Haul, Regional Transport | 23/32 nds | 225 mm |
| MICHELIN XDHT - 11R22.5 | D | Line Haul, Regional Transport | 19/32 nds | 180 mm |
| MICHELIN XDHT Siped - 11R22.5 | D | Line Haul, Regional Transport | 23/32 nds | 219 mm |
| MICHELIN XDHT Siped - 11R22.5 | D | Line Haul, Regional Transport | 23/32 nds | 211 mm |
| MICHELIN XDHT Siped - 11R22.5 | D | Line Haul, Regional Transport | 23/32 nds | 225 mm |
| MICHELIN XDN 2 - 11R22.5 | D | Line Haul, Regional Transport | 27/32 nds | 230 mm |
| MICHELIN XDN 2 - 11R22.5 | D | Line Haul, Regional Transport | 27/32 nds | 270 mm |
| MICHELIN XDN 2 - 11R22.5 | D | Line Haul, Regional Transport | 27/32 nds | 220 mm |
| MICHELIN XDN 2 - 11R22.5 | D | Line Haul, Regional Transport | 27/32 nds | 250 mm |
| MICHELIN XDN 2 - 11R22.5 | D | Line Haul, Regional Transport | 27/32 nds | 240 mm |
| MICHELIN XDS2+ - 11R22.5 | D | Regional Transport, Urban Transport | 25/32 nds | 210 mm |
| MICHELIN XDS2+ - 11R22.5 | D | Regional Transport, Urban Transport | 25/32 nds | 220 mm |
| MICHELIN XDS2+ - 11R22.5 | D | Regional Transport, Urban Transport | 25/32 nds | 230 mm |
| MICHELIN XDS2+ - 11R22.5 | D | Regional Transport, Urban Transport | 25/32 nds | 240 mm |
| MICHELIN XDS2+ - 11R22.5 | D | Regional Transport, Urban Transport | 25/32 nds | 250 mm |
| MICHELIN XM+S4 - 11R22.5 | D | Line Haul, Regional Transport | 21/32 nds | 219 mm |
| MICHELIN XM+S4 - 11R22.5 | D | Line Haul, Regional Transport | 21/32 nds | 211 mm |
| MICHELIN XM+S4 - 11R22.5 | D | Line Haul, Regional Transport | 21/32 nds | 225 mm |